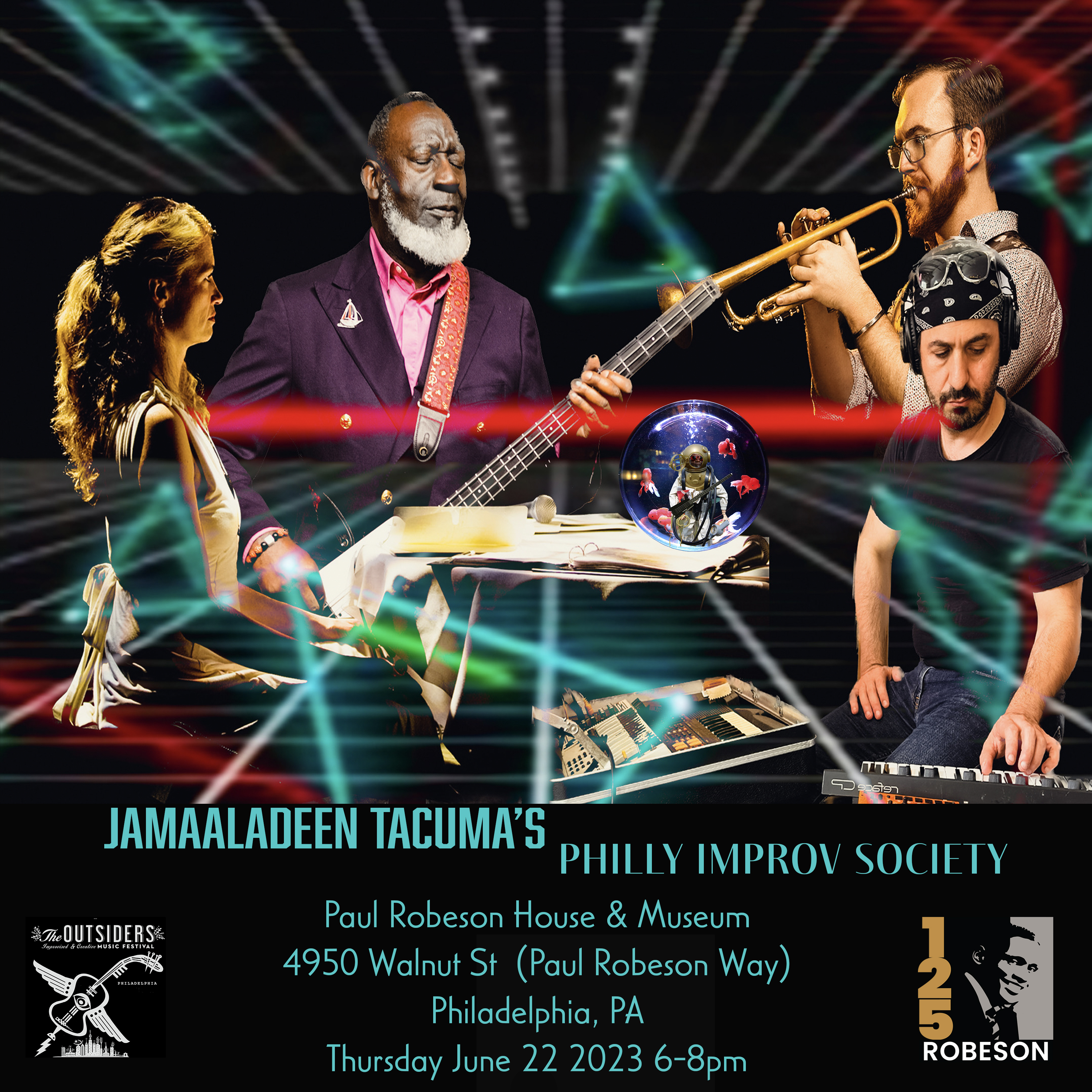 Paul Robeson House & Museum 
 And  2023 Outsiders Improvised & Creative Music Festival Presents: 
Jamaaladeen Tacuma's Philly Improv Society 
A concert during Black Music Month will take place in Philadelphia for live audiences .
This year, the Paul Robeson House & Museum is celebrating the 125th birthday of Paul Leroy Robeson.  For Black Music Month 2023 The Paul Robeson House & Museum introduces Jamaaladeen Tacuma's "Philly Improv Society" this musical collective is made up of Philly's finest improvisational masters and the emerging next generation of artists who embrace the tradition of improvised and creative music that was pioneered by African American musicians in Philadelphia such as Ahmad Jamal, Odean Pope, Rasheed Ali , John Coltrane, Sun Ra Arkestra and many more . This collective is currently being led by Tacuma however it is meant to create a fluid member group that will grow and expand beyond Tacuma himself in the future.
Jamaaladeen Tacuma  presents his new project  "The Philly Improv Society" featuring, Composer, Experimental Vocalist, Improviser, Sound Poet, Performer and Educator-Randi Pontoppidan from Copenhagen Denmark. and Philadelphia based Composer,  Trumpeter , Educator Paul Giess and Percussionist Electronic Sound Artist Julius Masri. 
Jamaaladeen met Randi in 2014 at Jazz Danmark's Vallekilde Summer Sessions while he was teaching a masterclass . Jamaaladeen immediately recognized her unique musical expression and organized a recording session with other Danish workshop participants. She appears on his 2015 release Legend of The Pipe and Sweater a tribute to the 1960's Danish Jazz movement that was so greatly influenced but the American Jazz musicians that were appearing on stage in Denmark. 
Randi was nominated for the 2020 Steppeulven award – best vocalist in Denmark , she is a recognized and sought after singer, improviser and composer. She works live with loop machines and other electronic devices. She uses her voice exploring musical landscapes and bringing forth new sounds. The voice becomes the instrument. From free improvisation, free jazz, to contemporary music, Pontoppidan has over the years developed extremely extended singing techniques.
She will bring an exciting vocal expression to Tacuma's group of improvisers who will create a surreal sonic realm for her to soar in. The Audience will be lifted and inspired by this international creative music culture exchange in one of Philadelphia's most important historical landmarks that was home to Paul Robeson. 
This event is supported by The Office of Arts, Culture, and Creative Economy's (OACCE) Neighborhood Arts Program (NAP) .The Program provides funding to annually support more than 100 free, family-friendly arts activities or events in Philadelphia's neighborhoods. These neighborhood arts programs include theatrical and musical performances, film screenings, dance instruction, children's art making workshops, and much more.
Doors Open at 6 pm Performance starts at 7:00 PM 

This event is free and open to the public