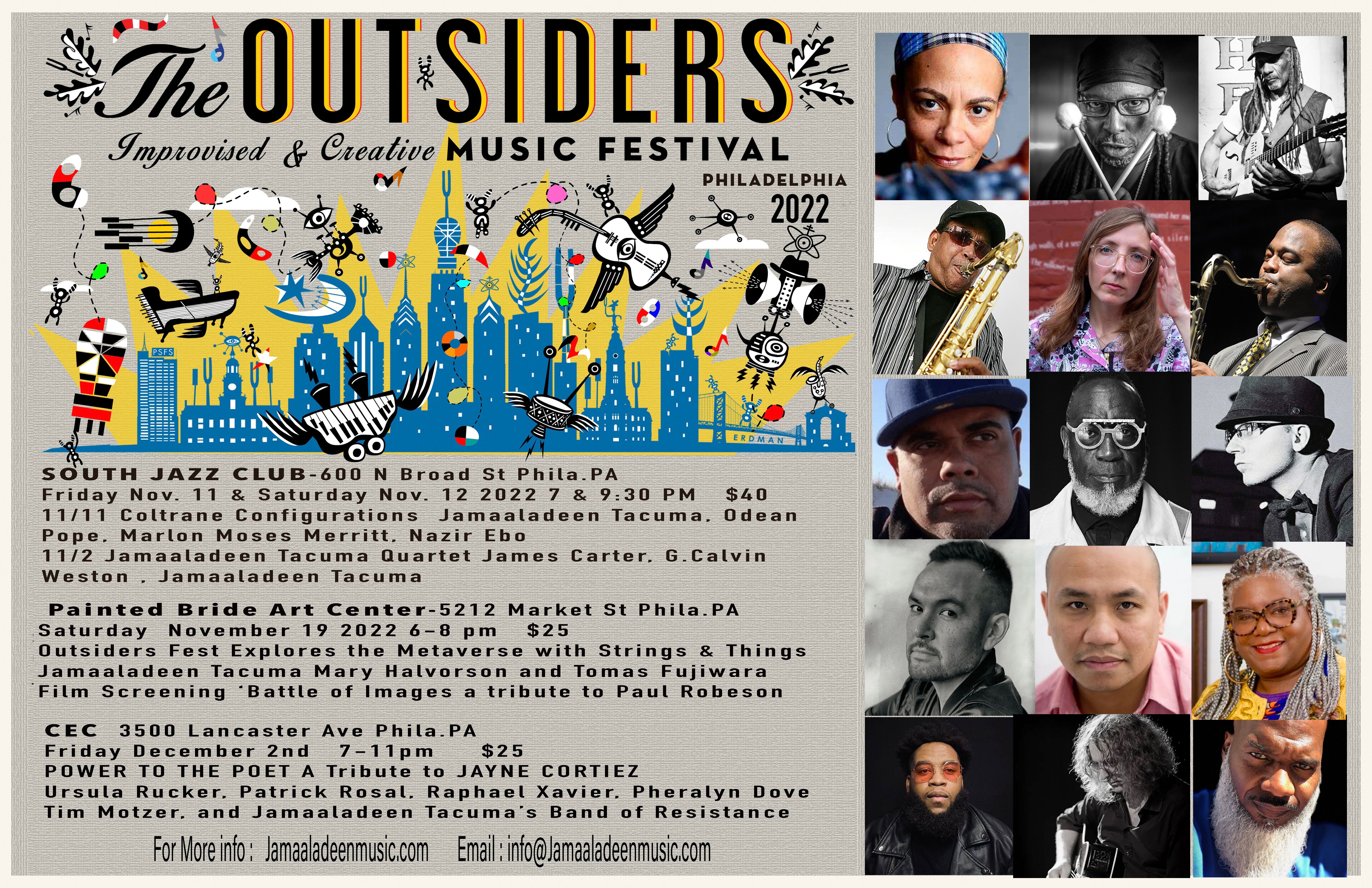 JAM-ALL PRODUCTIONS PRESENTS 
THE 2022 OUTSIDERS IMPROVISED & CREATIVE MUSIC FESTIVAL 
November 11,12,19 and December 2 2022 
Philadelphia PA -- After a short hiatus of in person events due to Covid 19 pandemic Jam-All Productions, led by renowned jazz bassist Jamaaladeen Tacuma, presents the 8th annual Outsiders Improvised & Creative Music Festival. Organized by Jam-All Productions, in cooperation with South Jazz, The Clef Club of Jazz, The Community Education Center, and Ropeadope Records, curated by Tacuma, The acclaimed Outsiders festival continues with a unique, expansive presentation for 2022 and continues its mission of showcasing diverse styles of risk-taking, progressive music and groundbreaking artists in historically black owned venues. 
The 2022 Outsiders fest begins with a  kick off party on November 11 & 12 at South , 600 N. Broad ST , 19130, Friday Nov 11 Coltrane Configurations: Jamaaladeen Tacuma,bass; Odean Pope, Sax; Marlon Mosez Merritt; Nazir Ebo, drums; June Lopez electronics. Saturday Nov 12 Jamaaladeen Tacuma Quartet: Jamaaladeen Tacuma, bass; James Carter, Sax; Calvin Weston, drums; Jake Morelli, electric guitar. Two  sets of music each night at 7 pm and 9:30pm, admission is $40 tickets are available online at www.southjazzkitchen.com. (215) 600-0220. 
On November 19 at Painted Bride Art Center 5212 Market St. Phila. PA 19142, the fest continues with Outsiders Improvised & Creative Music Festival Explores the Metaverse: This in-person event will be livestreamed into virtual reality via The Ropeadope Lounge (TRL), featuring a film screening of "Battle of Images; a tribute To Paul Robeson"  and a live musical performance by "Strings & Things" Jamaaladeen Tacuma, bass; Mary Halvorson, guitar and Tomas Fujiwara, drums. 
This unique presentation joins the world of live music with the VR world of attendees around the world. The full live performance and film screening will be broadcast into VR for avatars to watch, and the VR world will be beamed back to the Clef Club on their movie screen. Following the performance, there will be an afterparty in VR, where fans can chat with the musicians and each other. 
Admission for the in person event is $25 in person tickets , $20 Media Stream VR Pass are available online through Eventbrite  https://www.eventbrite.com/e/429792148887 
The Outsiders Improvised & Creative Music Festival concludes with a grand finale on Dec 2 at the Community Educations Center (CEC), 3500 Chestnut St, 19104. "Power to The Poet"  a tribute to poet and activist Jayne Cortez , featuring poets  Ursula Rucker, Patrick Rosal, Raphael Xavier and Pheralyn Dove. Musical lineup: Tim Motzer guitar and Jamaaladeen Tacuma's  Band of Resistance. 
The Doors at 6:30 and the event starts at 7 pm. 
Admission is $25 and tickets are available  at https://Outsiders-fest-2022-power-to-the-poets.eventbrite.com