The Outsiders Improvised & Creative Music Festival 2016
April 30 2016
TICKETS ON SALE NOW 
Celebrate Philly Jazz and International Jazz Day with renowned bassist, composer, producer Jamaaladeen Tacuma and friends at the Clef Club
Philadelphia, PA – Internationally renowned bassist Jamaaladeen Tacuma is pleased to present The Outsiders Improvised & Creative Music Festival for the second year in a row, a celebration of creative, progressive improvised music. The concert takes place on International Jazz Day, Saturday, April 30, 2016 from 7pm - 1 am at the Philadelphia Clef Club, 736-8 S. Broad St, Philadelphia, PA 19146.
Admission is payable at the door in cash only, $25 for adults and $15 for students with I.D.
The 2015 Festival brought together people of all ages, backgrounds and nationalities for an evening celebrating Philadelphia's rich musical legacy—the event was sold out with a waiting list to get in. This year the festival was chosen to be the closing event of Philadelphia Jazz Appreciation Month: Philadelphia Jazz Appreciation Month is a project of the Smithsonian Museum's National Museum of American History. This year, Festival founder Jamaaladeen Tacuma's curatorial focus is on cross-generational musical exchange. Tacuma has identified fiery young artists to pair with seasoned figures of Philadelphia improvised creative music.
The Outsiders brings to the stage national and international musicians who have a strong connection to Philadelphia. These include composer, multi-instrumentalist John Zorn (NYC), composer guitarist Elliott Sharp (Berlin/NYC), bassist / violinist/ poet Henry Grimes (NYC, born and raised in Philadelphia), composer saxophonist James Brandon Lewis (NYC) , composer bassist Jamaaladeen Tacuma ( PHL), drummer Abe Speller (NJ),drummer
2016 Philadelphia performers include saxophonist Odean Pope, composer saxophonist Bobby Zankel, bassist Richard Hill, drummer Jim Hamilton Trio, guitarist Charlie Ellerbe & Matrix 12:38, composer pianist Dave Burrell, pianist Raymond King, pianist Farid Barron, Sirius JuJu, Fuse Vox featuring guitarist Jeff Monjack, vocalist Valerie Gay and electronics June Lopez, drummer Justin Faulkner, drummer Cornell Rochester and drummer/ bassist Nazir Ebo.
The Outsiders Improvised & Creative Music Festival is supported by Creative Philadelphia, International Jazz Day,  WRTI Jazz Bridge with J. Michael Harrison, The Balance of Life Initiative, WKDU's Perry McCotter, Philadelphia Producers Guild, Aguilar Amplification, KP-Vintage, Ahmad & Zaffarese LLC, La Bella Strings, Dipinto Guitars, The Philadelphia Producers Guild,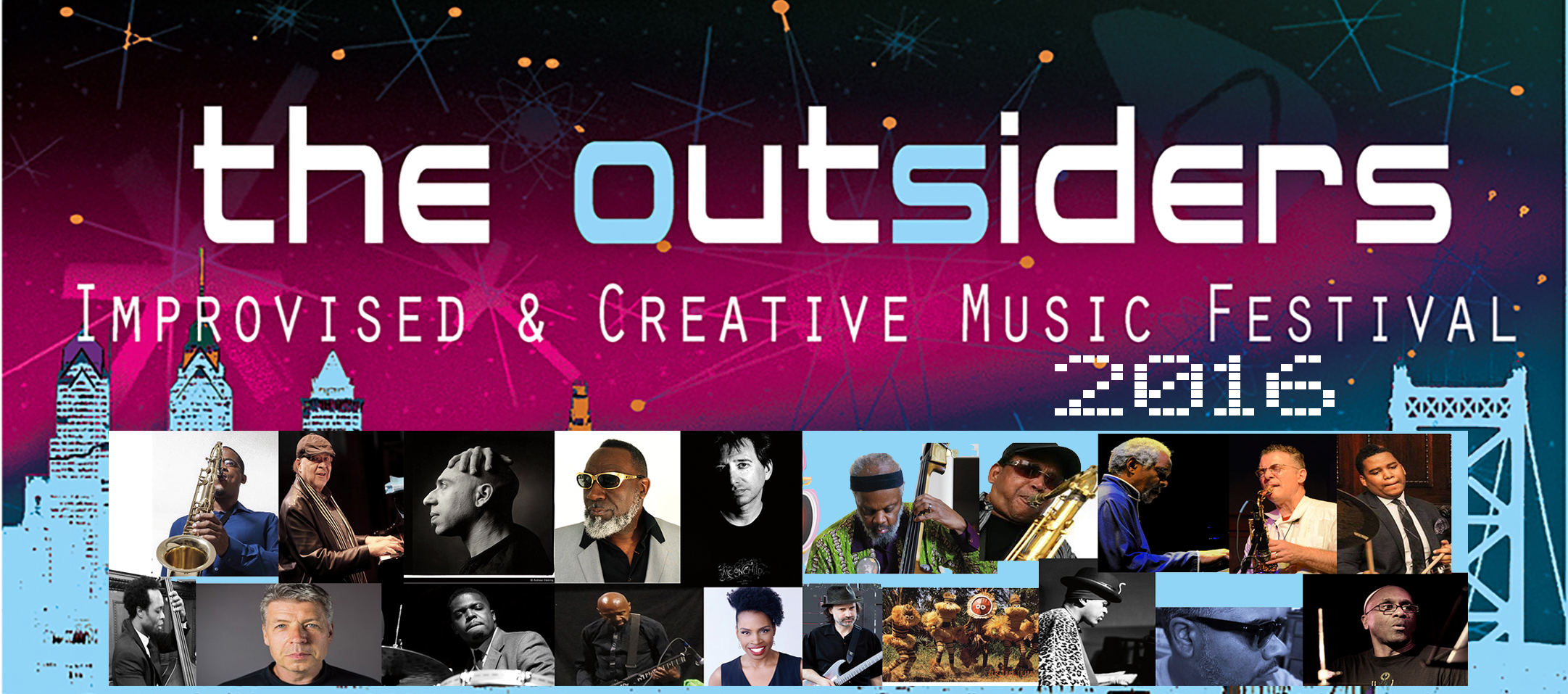 Questions? Please call Jam All Productions
267-297-2525
TICKETS ON SALE NOW- Click here to purchase