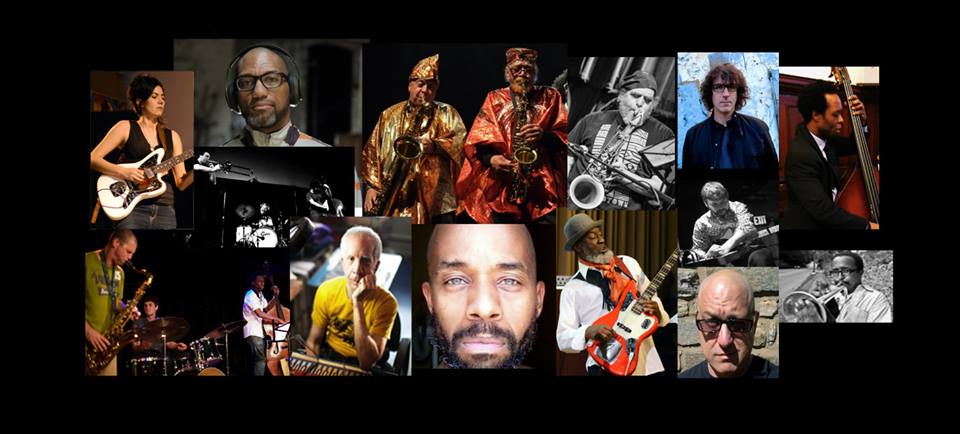 The Outsiders Improvised & Creative Music Pop-Up Festival –  April 24, 2015 Friday 8pm-1am CEC 3500 Lancaster Ave Phila PA
A celebration of creative, progressive music in honor of Philadelphia Jazz Appreciation Month, curated by Jamaaladeen Tacuma and presented in collaboration with The Producer's Guild. 
Philadelphia, PA – Internationally renowned bassist Jamaaladeen Tacuma and The Producer's Guild of Philadelphia are pleased to present The Outsiders Improvised & Creative Music Pop-Up Festival, a celebration of creative, progressive jazz music.  The concert takes place Friday, April 24, 2015 at 8pm at the Community Education Center, 3500 Lancaster Ave, Philadelphia, PA, 19104. Admission is $20 Advance $15 at Door for adults and $10 for students with I.D. 
Featured performers include Jamaaladeen Tacuma, electric bass guitar; Marshall Allen, saxophone; Danny Ray Thompson baritone Sax, Flute, percussion; Chuck Treece, drums; Charles Cohen, Buchla Music Easel; Elliott Levin, saxophone & spoken word; King Britt electronics and Ben Schachter's RE:Trio, saxophone,Dan Blacksberg Trio, Ava Mendoza Electric Guitar, Tim Motzer Guitar and electronics, Richard hill upright & electric bass. 
As festival curator, Jamaaladeen Tacuma, draws on his experience performing in music festivals worldwide over the last two decades. His aim is to bring this exciting experience home to Philadelphia by gathering musical mentors and colleagues who exemplify the riches of Philadelphia's creative jazz music culture, and to provide a setting for these artists to stretch their musical imaginations in front of a diverse audience. Collaborating presenter The Producer's Guild was founded in 1975 by Leo Gadson and Jerome Gethers to "ensure that the appreciation and enthusiasm for the rich cultural heritage of African American Arts continues to thrive in Philadelphia, especially Black Classical Music -- commonly known as JAZZ."
Tacuma is a recipient of a 2011 Pew Fellowship, an award given annually to exceptional Philadelphia artists by the Pew Center for Arts & Heritage. Other Pew Fellows performing in The Outsiders Festival include  Marshall Allen, Charles Cohen,Dan Blacksberg, King Britt  and Chuck Treece.
#phillyjazzmonth
Charles Cohen/ Elliott Levin 8:00-8:30  pm
Dan Blacksberg Trio 8:45-9:15 pm
Chuck Treece Drums/ Richard Hill Bass/Tim Motzer Electronics & Guitar 9:30- 10:00 pm
Ben Schacter Re:Trio   10:15-10:45 pm
Ava Mendoza Guitar/Tom Spiker- Bass & Electronics/ Jafar Barron Trumpet/Adam Guth Drums 11:11:30 pm
King Britt -Solo 11:45 pm -12 am 
Marshall Allen Sax/Danny Ray Thomspon Baritone Sax, Flute, Percussion/ Jamaaaladeen Tacuma Bass/King Britt Electronics/Chuck Treece Drrums 12 :00 -12:45 am
Join Facebook Event Page Here
BUY TICKETS HERE