Philadelphia Jazz Appreciation Month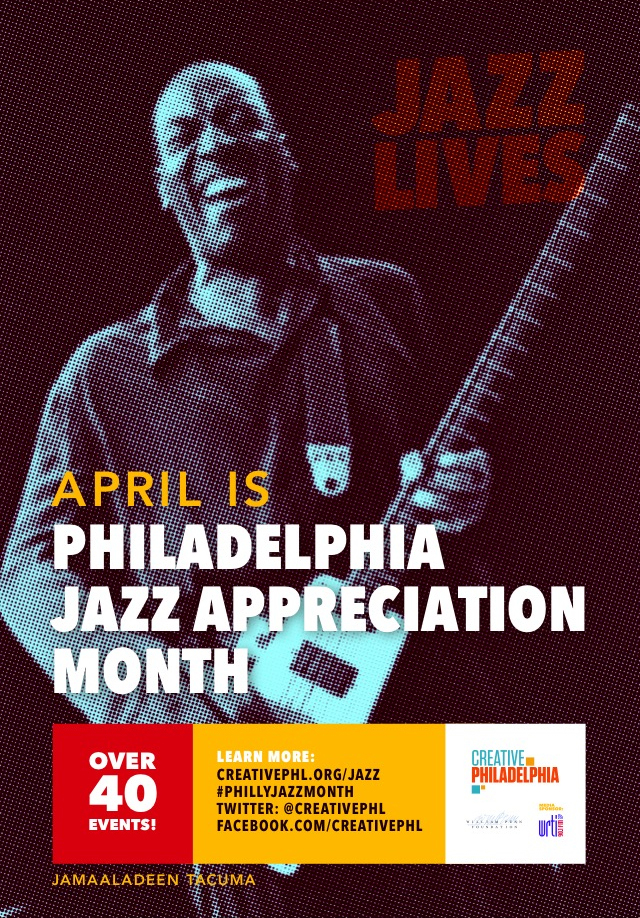 Jazz Lives In Philadelphia
Come celebrate with us the rich jazz history of the City of Brotherly Love during Philadelphia Jazz Appreciation Month in April 2015. With live performances, art exhibitions, discussion panels, and films showcasing the power of jazz in different shapes and forms, Philadelphia Jazz Appreciation Month reflects on the jazz heritage of the city, along with the vibrant jazz scene that persists to this day. Creative Philadelphia – the Office of Arts, Culture and the Creative Economy (OACCE) is proud to lead the City of Philadelphia in the celebration of Philadelphia Jazz Appreciation Month.

Philadelphia has an extraordinary jazz heritage, beginning with Ethel Waters and extending to John Coltrane, Billie Holiday, Joe Venuti, Eddie Lang, Stan Getz, the Heath Brothers, Dizzie Gillespie, Sun Ra, McCoy Tyner, Grover Washington Jr. and other music luminaries, all of whom set the stage for the vibrant jazz scene the City still enjoys today. The goal of Philadelphia Jazz Appreciation Month is to further stimulate the current jazz scene and encourage people of all ages to participate and support institutional jazz programs.
Philadelphia Jazz Appreciation Month is a project of the Smithsonian Institution's National Museum of American History and this year marks the 14th anniversary of the national celebration.

Jamaaladeen is extremely honored to be featured in this month long Celebration, stay tuned for special event announcements.